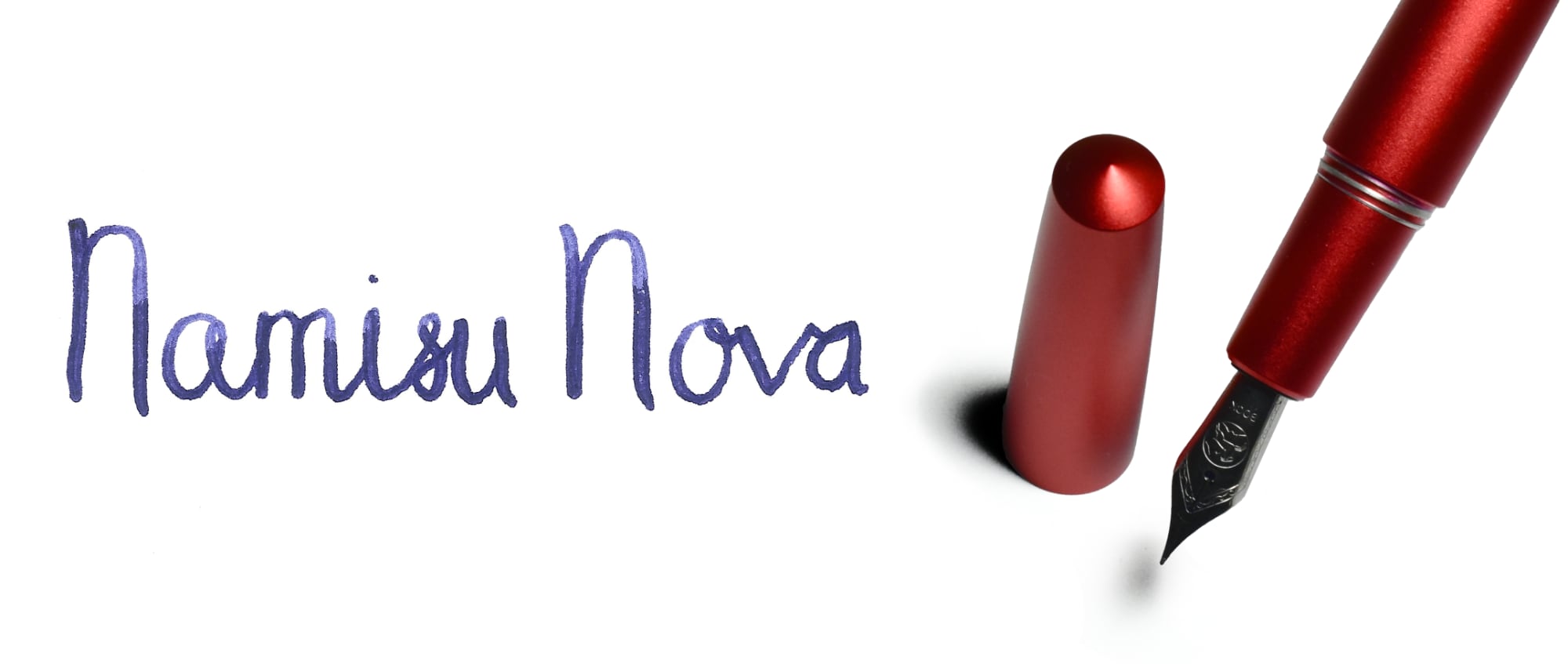 Namisu is a company that designs fountain pens in Fife, Scotland. They've been operating since 2013, but I only discovered their work earlier this year. As far as I'm aware there are relatively few British pen manufacturers, with most expertise now found in Germany and Japan, so I was keen to try out their work. Predominantly focused on minimalist design, their pens are devoid of any of their own branding. They compensate for this with distinctive shapes and high-quality materials.
The Nova is one of their earliest designs, and has been available for three years. I have the aluminium model in red, although it is also available in brass, titanium, and other colours. Of these, I think the titanium looks the best and I imagine they don't differ in their ergonomics. Namisu currently also ship the similar Orion and Ixion pens, along with a few rollerballs, although these are more expensive than the Nova.

Each of their pens ships with nibs produced by Peter Bock in Germany. The choice of Bock nibs is a pragmatic one, I think, as they are both a reliable and relatively inexpensive choice. My Nova has a fine steel nib, although titanium and broader nibs are also available. I initially struggled to get ink flowing through the pens, and experimented with a number of inks and notepads, but continued to find that the nib scratched the surface of the paper, often without flow. However, after flexing the nib a little I eventually managed to get ink flowing comfortably from the pen without issue.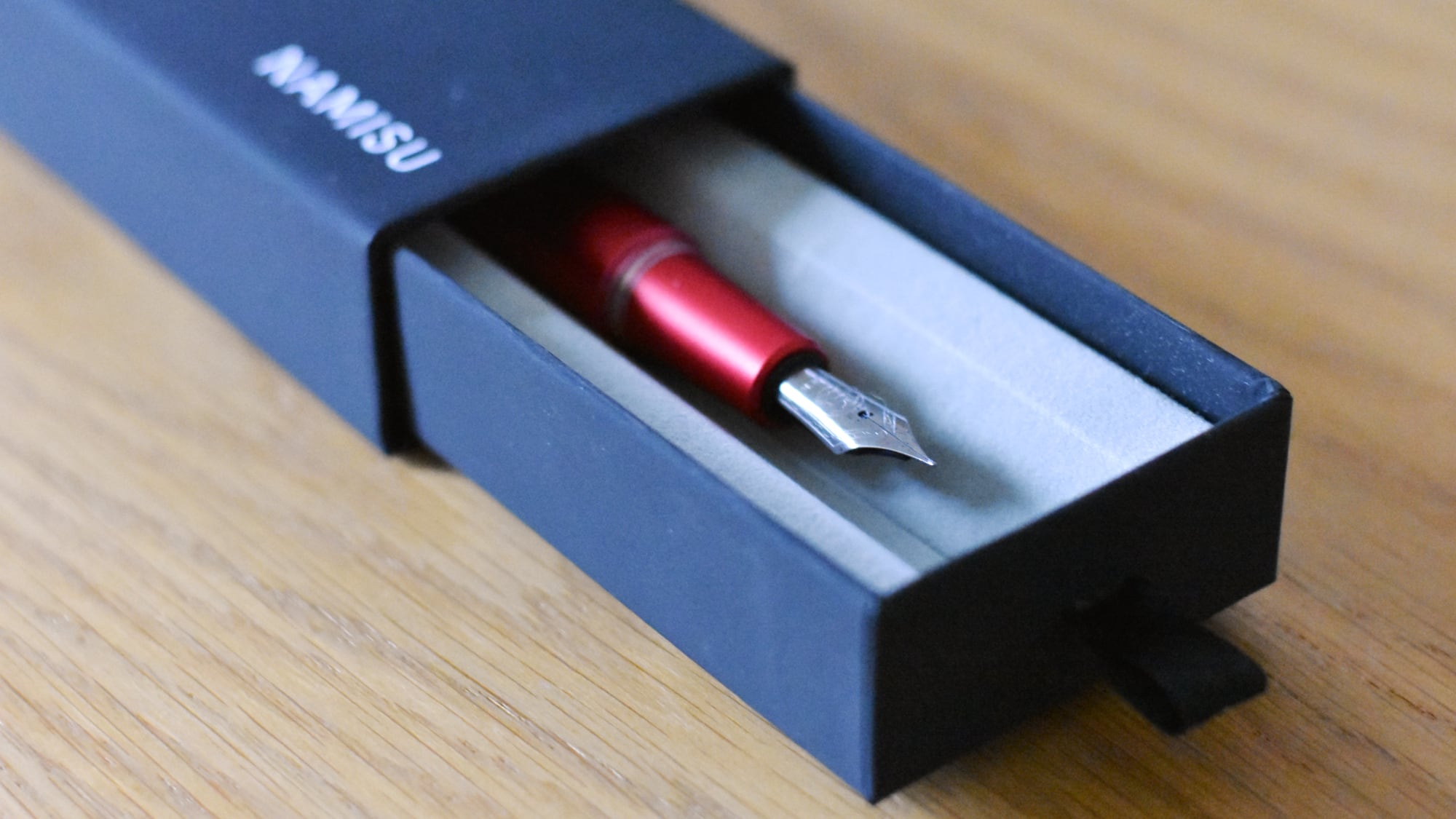 Although it looks very nice, I didn't find the Nova terrificly comfortable to write with, especially for longer periods. The section — the part you grip with your fingers — is wider than any other pen I own, and its surface is completely flat, rather than a gentle curve or moulded grip seen on other pens. Those with small hands may find the pen uncomfortable to maneuver, but I can certainly see the pen being more comfortable for those with larger fingers. The flat surface was a bigger issue, especially considering that the pen seemed to initially require significant pressure to get ink flowing, with my fingers left with pen-shaped indentations after an hour or two of use. The only other significant downside of the design is that it tended to roll a lot on my desk.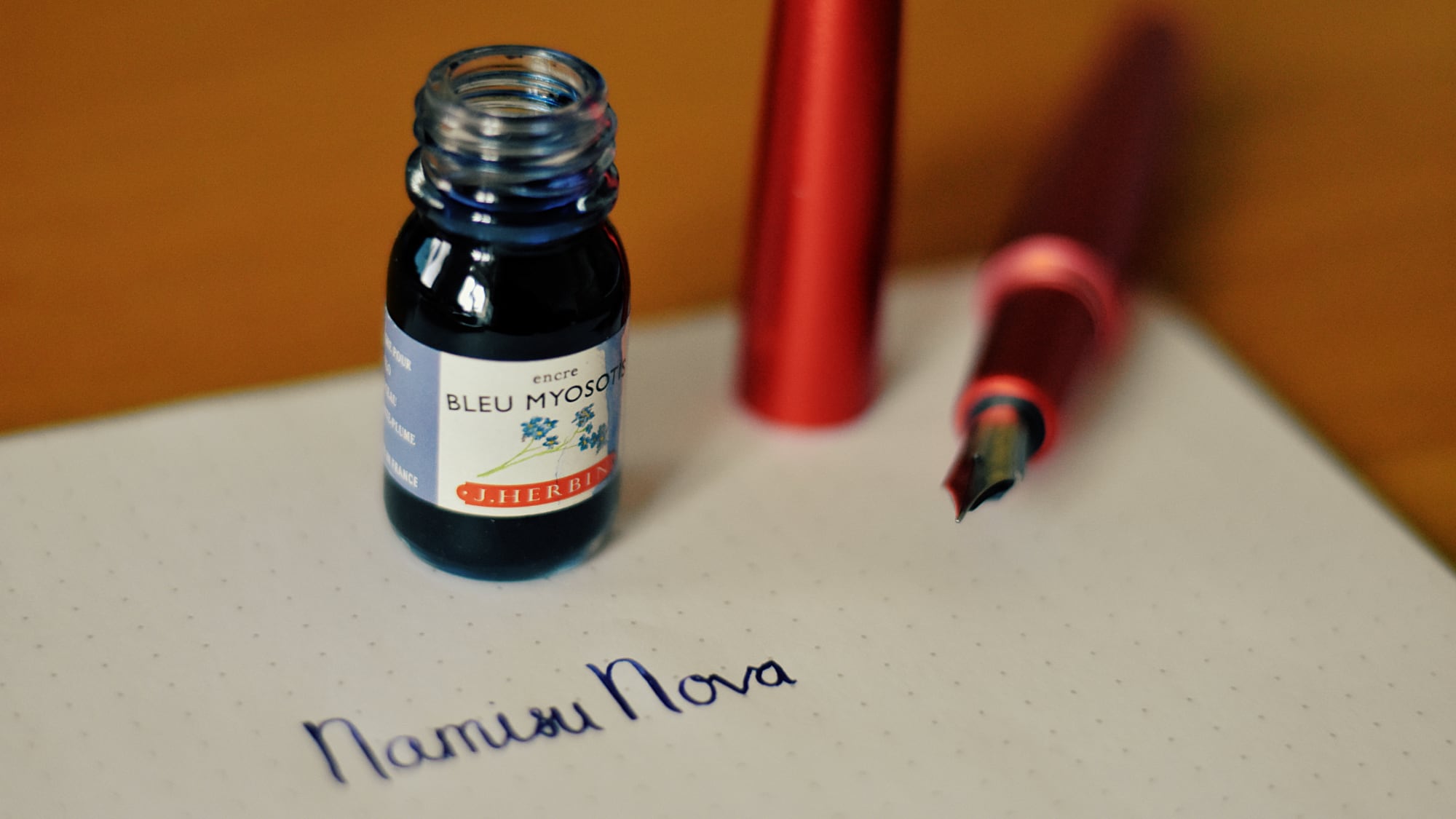 Overall, I wouldn't recommend the Nova over other pens in its price category — TWSBI certainly make significantly nicer pens for a similar price — but from an aesthetic perspective it is certainly worth it. There are very few pens with all-metal bodies available at that price, and after about six months of ownership I haven't noticed a single scratch anywhere on the body; this pen is durable. I haven't yet experimented with posting the pen, but I wouldn't recommend it as the cap screws on and off. Prior experience suggests that the screw thread is likely to eventually damage the body.
The Nova is available at Namisu's online store for £45.
♦